ZYDFW European-style cable distribution box
Product Detail
Product Tags
Overview
European-style cable distribution box is widely used in power distribution network system in recent years cable engineering equipment, its main characteristics are two-way open door, using butt casing as the connecting bus row, with small length, clear cable arrangement, three-core cable does not need long span cross and other significant advantages. he cable joints used meet the DIN47636 standards.
Generally use rated current 630 A bolt fixed connection type cable connector.

Normal use environment
Ambient temperature: maximum temperature: +40℃, minimum temperature -30℃
Wind speed: equivalent to 34m/s (not more than 700Pa)
Humidity: The average daily relative humidity is not greater than 95% The average monthly relative humidity is not greater than 95%
Anti-shock: horizontal acceleration is not greater than 0.4m/s2, vertical acceleration is not greater than 0.1 5m/s2
Installation site inclination: no more than 3°
Installation environment: the surrounding air should not be significantly polluted by corrosive, flammable gas, water vapor, etc., and there is no severe vibration at the installation site.
When ordering this product exceeds the above conditions, please consult with our company.
Technical parameters
| | |
| --- | --- |
| Rated voltage | 12kV |
| Rated current | 630A |
| Dynamic steady current | 50kA/0.3S |
| Thermal stable current | 20kA/3S |
| 1 minute Power frequency withstand voltage | 42kV |
| 15 minutes DC withstand voltage | 52kV |
| e | 105kV |
| Box protection level | IP33 |
Structural description
1. upper door

2. casing support

3. cable terminal head

4. lower box

5. cable
ZYDFW-12 series cable distribution box is outdoor design, fully sealed structure, fully insulated, dustproof, moisture-proof, flood-proof, corrosion-resistant and environment adaptable. Cabinet protection grade reaches IP33. The cable joint bracket is made of stainless steel, and the outer shell is made of stainless steel plate or cold rolled plate.
The cable connector bracket is located at the upper part of the distribution box and is used to support the bushing. The bushing is used to fix the cable connector. In addition, short-circuit fault indicators and live displays are also installed in the tap box. All live parts of the main circuit in the box are insulated by prefabricated plug-in cable terminals. The cable partition is located in the lower part of the box, and has a cable fixing clip and a ground terminal. The cabinet has reasonable layout, small size, compact structure, beautiful appearance, simple installation and maintenance-free.
Foundation drawing of European-style cable distribution box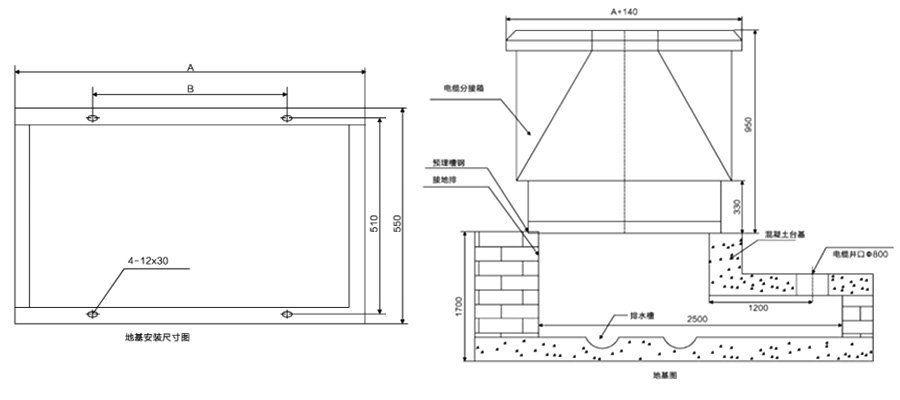 Recommended parameter values
| | | | | | | |
| --- | --- | --- | --- | --- | --- | --- |
| Number of branches | 2 | 3 | 4 | 5 | 6 | 7 |
| A | 580 | 700 | 820 | 940 | 1060 | 1180 |
| B | 180 | 300 | 420 | 540 | 660 | 780 |
---
---
Write your message here and send it to us